By Kevin Bille
Hey what's the good word!
Selflessness. Thinking of self-less and others more. As I like to say, less of me and more of we. It's so counterintuitive to a lot of today's society, but so ever present in Jesus' time on Earth.
Greg Tonagel, the Head Men's Basketball Coach at Indiana Wesleyan, has established a principle for his program, and I can personally tell you that they live it out to the best of their ability every day. Not just as basketball players and coaches, but as people. It is the foundation for their words, actions and behaviors. Here's his principle:
I am third. God first, others second, myself third.
Think about that. Honestly, go back and read those three words then pause. Take time to reflect, right now, and try to comprehend how powerful and life changing that is. I am third.
My personal struggle with following this principle  includes dealing with my selfish thoughts and allowing them to take over my words, actions and behaviors. If you experience these same thoughts in your own head or just in general, here are some tips from certain examples that could help you stay focused on others.
The next time someone is talking to you, be present and give them your full attention. Listen without the intent of responding instead of only thinking about what you want to say next.
What about when someone else needs help and you think first about how it will affect you —ever had that happen? Shift from me-first thinking to considering how it will affect the other person instead.
Don't worry about being right all the time. By having to be right, you may be quick to blame others and assume fault, even if it's a result of your actions. Those who live as if they are always right rarely take responsibility for things they've done wrong. They refuse to accept the consequences of their actions and live in denial.
There are many other variations, but you get the idea. These are all self-centered thoughts. I have them and I know a lot of others do too. It's natural for us to have these self-centered thoughts. When we are kids, we believe we're the center of the universe. Then we grow up and mostly still believe this. It's probably a self-defense mechanism to create a universe where we're at the center of it, entitled to what we want.
We must get ourselves out of the way and think of the other person. As my good friend Mike Gallina of Aultcare says, "we must not make it about ourselves, but about finding ways to use our skills and talents to help others. And no talent or skill is too small to use to serve others."
The truth is, the more selfless we are, the greater we experience happiness. Those with servant hearts who are self-less and embody the principle of "I am third" are joyful people.
So, ask yourself, what is one specific thing I can do to become self-less? Is it spending more time in prayer? Helping a neighbor in need? Volunteering? Find that one thing so that you get out of your own way and become self-less rather than selfish.
Now that's GOOD STUFF!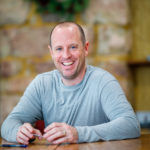 Reach out to Kevin Bille anytime with your thoughts by emailing him at: kevin@plainvalues.com
Watch interview's at Kevin's Youtube Channel