words by: Kevin Bille
Hey what's the good word!
I'm the newest member of our staff here at Plain Values, joining in mid-October 2019, and I couldn't be happier to be a part of this team. I'm just as happy to be spending some time with you each month and embarking on a journey that I'm hoping will have as much of an impact on you as it will on me.
I've spent the past twenty years as a head basketball coach at the collegiate and high school levels, as well as being an athletic administrator. Sports have played an integral part of my life ever since I was young and culminated with me playing collegiate basketball at nearby Walsh University and even as far as Germany, where I spent time as a professional basketball player. I've met so many people, gone to so many different places, and have an infinite number of things I've taken away from the sport to make me who I am today. To say I'm grateful for all of that would be a massive understatement.
There are a number of lessons I've learned in my lifetime, and I look forward to sharing these with you. Some topics will include habits vs. goals, humility, preparation, execution, connection, leadership, and attitude, to name a few. This might impact you as a spouse, a parent, a sibling, a son or daughter, a co-worker, or as a friend. But, if you get better as a result of our time each month, then I'm beyond appreciative for that opportunity. I am excited to hear how this will inspire you, possibly transform you, and even bring some positive insight into your life.
At the end of the day, I'm a big believer that we can all focus on what we control in our lives. Most of these topics fall under that philosophy, but I think the message of control is something that resonates in all of our lives, especially now. "Confusion lies in complexity; execution in simplicity," says Kevin Eastman. The older I get, the more appreciation I have for "simple." And ultimately, I feel that our true development comes in two ways.  One, knowing what to work on and two, consistently working day in and day out. As I like to tell my own boys or the players I've coached, "Embrace boredom!" Very few can maintain the daily grind throughout their lifetime without some difficult challenges.
So, ask yourself, what do I control in my life? And once you identify those things, I challenge you to find ways to make them better.
Now that's GOOD STUFF!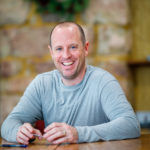 Reach out to Kevin Bille anytime with your thoughts by emailing him at: kevin@plainvalues.com