words by: Kevin Bille
Hey, what's the good word!
Integrity. The quality of being honest and having strong moral principles; committing to doing what is right at all times and in all circumstances, whether or not anyone is watching. Sounds good on the surface, right? But, as you and I know, this is a challenge for all of us.. And I don't think it's a matter of if as much of it being a matter of when.
I had a great conversation with our 11-year-old at breakfast the other day. I asked him, "how much harder is it to do the right thing when you're surrounded by people with lower standards?"
It's a great question and one with more of a consistent answer than one would expect, regardless of how old you are. All of us have been in difficult situations of knowing right from wrong. And building a reputation of integrity takes years, but it takes only a second–or one incident–to lose.
We will inevitably be exposed to these situations and influences at some point, no matter how hard we try to avoid them. So, what are some things we can do to make that easier on us?
First, we can put our guard up and decide what and/or who we allow in our lives. As I once read, "uninvited guests might arrive at your home, but you don't have to ask them to stay for dinner. You don't have to let them in your mind."
Next, have self-awareness. It's difficult to communicate who we are and what we value without this. Your capacity for self-reflection is essential. Be clear about what you believe in order to live your life by your values.
Lastly, be particular about who you allow in your circle, whether that's personally or professionally. If you want to build a reputation as a person of integrity, then surround yourself with people of integrity.
Just remember that in life, success will come and go. But integrity is forever. Dishonesty may provide gratification in the moment, but it will never last. 
And as I told my son the other day, "there's never a RIGHT time to do the WRONG thing."
Now that's GOOD STUFF!
__________
And a quick side note: It's been one year now that I've been writing this column. I am extremely grateful to Marlin for the opportunity. Also, I want to personally thank you, the reader, for taking the time to read this column; it means a lot. And a big thanks for those of you who connected with me by mail or via email–you'll never know how much I enjoy and appreciate your words. God Bless!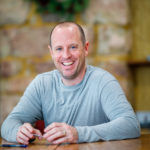 Reach out to Kevin Bille anytime with your thoughts by emailing him at: kevin@plainvalues.com
Watch interview's at Kevin's Youtube Channel