words by: Kevin Bille
Hey what's the good word!
Control: To control or not to control, that is the question. Being able to differentiate between things we can control and things we can't makes a difference in our lives. Personally, I think it's a game-changer, an opportunity to bring both clarity and peace to our lives. But it will require daily discipline on our part, and that's where we tend to struggle.
It certainly is a practice rather than a one-time event. It's also the difference between consuming things and creating things. Sitting around worrying about all the variables and outcomes beyond our control keeps us in a state of inactiveness. Sometimes it takes discipline to keep moving forward step by step, even when we feel vulnerable and uncertain.
When we focus on what we can control, we don't worry as much about what we can't. For me, it's Where can I make a difference? The more I know that I'm doing as much as I reasonably can in that area, the more peace I feel about all the variables outside my control. Now this doesn't mean I'm absolutely free of nerves or anxiety, but that effort does give me deeper self-trust.
We can control our input, but we can't control the outcome. I can control how I show up in my relationships, but I can't control what other people think of me. I can control how much time and effort I put into preparing for a job interview, but I can't control whether I end up getting the job. In all of these situations we can influence the outcome, but we can't control it.
I continually remind myself to refocus on how I can make a difference, rather than spend precious time and energy worrying about all the areas in which I can't. One thing I've learned from this process is that focusing on what we can't control often takes our energy and attention away from what we can control.
And that's the key! Focusing on what we can't control makes us less effective and potentially leads to the outcomes we fear the most. The more time and energy we're spending on the things we can't control, the less time and energy we're spending on the ways in which we can make a difference.
If you're dealing with uncertainty in a particular area of life right now, start to clarify where you have control, where you don't, and how to focus on what matters.
So, ask yourself, "How can I focus more on things that I can control? What would that look like?" And once you identify that, I challenge you to make that a part of your daily discipline.
Now that's GOOD STUFF!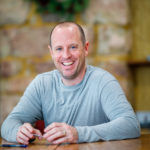 Reach out to Kevin Bille anytime with your thoughts by emailing him at: kevin@plainvalues.com
Follow on Kevin's Youtube for more.