words by: Kevin Bille
Hey, what's the good word!
Execution. Last month we talked about preparing for 2021. While that is important, it's time to take things to the next level and make sure we execute our plans. It's one thing to lay out a road map for something, it's a completely different thing to actually put those plans into action. Not only this, it's also important that you execute your plans the right way. I believe how you do anything is how you do everything. If you do something right the first time, you don't run the risk of having to do something again because you executed your plan poorly. Collectively, who you are influences how you act, which determines what you achieve.
Execution starts with getting on the same page, both individually and collectively. Everyone knows or has an idea of what execution is, but they don't have the discipline to do it. It can be boring and it can be hard, but I would highly encourage you to embrace both of those things.
I think there are three action steps you can take to improve your overall execution. First, become more focused. You can develop your focus by knowing what tasks require your focus and then consistently work on completing those tasks. Honestly, a lot of people I know need to stop talking about their problems and start thinking about their solutions.
We are bombarded by distractions all day long: instead of being sidelined by things that grab your attention, focus instead on what deserves your attention. Don't just manage your time, manage your attention, too. This alone will assist in your ability to execute better and more often.
The second action you can take to improve your execution is to level up your engagement. This action step is team-centered; whether it's your crew at work or at home with your family. To properly execute your vision, you must engage with your team and communicate where you want to go. When it comes to work, many companies fail to execute their vision because they are customer driven, not employee driven. Engage your employees first.
The last action that improves your execution is accountability. Individually and as a team, everyone must make a commitment to the team and hold each other accountable. Don't ever be afraid to confront the culture. Knowing the end result should not impact your role or responsibility. Small disciplines done consistently lead to big results over time.
So, ask yourself, if your company evaluated your last thirty days, would they hire you based on your execution? Answer that question honestly. If the answer is no, then pick one of the three action steps above and find out what best fits you at this time. Another thing you can do is finish this sentence: I have no explanation why I haven't done this yet, but I should _________.
Now that's GOOD STUFF!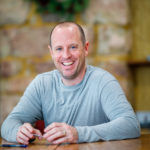 Reach out to Kevin Bille anytime with your thoughts by emailing him at: kevin@plainvalues.com
Watch interview's at Kevin's Youtube Channel