words by: Kevin Bille
Hey, what's the good word!
Discipline. I firmly believe this is a mindset that's part of who you are. Discipline is about how you live your life one day at a time. It is arguably one of the strongest forms of self-love. Discipline is about always striving to become the best version of yourself.
Disciplined people do what they say they are going to do, when they say they will do it, and in the way it's supposed to be done. Being disciplined means setting a standard of excellence that can be both consistent and sustainable over time.
As a former coach, it didn't matter to me how you stretched, how you ran, or how you warmed up. But it did matter to me that you respected everything enough to know that there was a certain way to do it. The expectation is that you had the discipline to do it that way, regardless if the coach was around or not. If you don't have the discipline to practice the right way, how will you be trusted in the game to do what you're supposed to do?
That example comes out of Nick Saban's playbook. Saban is the University of Alabama Football Head Coach, arguably the greatest of all-time. He says, "there are two pains in life. The Pain of Discipline and the Pain of Disappointment. If you can handle the Pain of Discipline, then you'll never have to deal with the Pain of Disappointment."
Discipline is not necessarily punishment, but I think most view it as that. I think that's because people aren't doing what they are supposed to do and, as a result, they are facing the consequences of that. Being undisciplined affects the standard you've set for yourself as well as the ability to sustain it over time.
Start with embracing discipline in your life as something good. Trust that it will get you where you want to go because it will. It doesn't mean that it won't be hard, but it will be worth it. Discipline is a gift to your future self; it's about loving yourself enough that you're willing to put up with the pain.
Be consistent. You cannot be inconsistent with this pattern in your life. Just win the day, nothing more, nothing less. Win today, go to sleep, wake up, and do it all over again. Again and again, rinse and repeat. The secret isn't how to be successful; the secret is the ability to sustain this mindset over time.
Don't allow complacency or entitlement to settle in. Keep going and striving to be the best version of yourself, knowing that you might never arrive. You will never have it all figured out, and that's perfectly fine!
The good news with discipline is that it starts and ends with YOU. Are you doing what you say you're going to do? Are you doing it when you said you were going to do it? And are you doing it to an established standard?
Discipline yourself so others don't have to!
Now that's GOOD STUFF!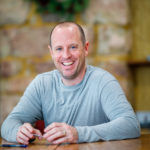 Reach out to Kevin Bille anytime with your thoughts by emailing him at: kevin@plainvalues.com
Watch interview's at Kevin's Youtube Channel