words by: Kevin Bille
Hey, what's the good word!
Coachable. Being coachable means being open to asking for and receiving feedback, looking inward at how you can move forward, and being interested in growth. You don't take things personally or as a criticism, instead you see it as an opportunity.
Some of the most successful people I've been around share this trait. It is something I've always appreciated and tried to model over the years. There were consistent qualities and patterns that stuck out to me about these people.
They are always open to learning something they don't already know. I would say it's more of a healthy curiosity they exhibit, always trying to improve but realizing they will always have blind spots and never arrive.
Coachable people take accountability and use it as a positive, rather than shy away from it or look at it as a negative. They take responsibility and do not make excuses. At the same time, they are willing to manage their expectations on a consistent basis.
One other thing is they seem open to try new things because they are seekers of growth. They allow the platform of being uncomfortable to push them forward, knowing it's a good place to be. And this is where they seem to be most vulnerable to coaching because they know it's something they are not good at. 
I can't help but think of Peter when it comes to this, particularly 1 Peter 5:5-6: "All of you, clothe yourselves with humility toward one another, because, 'God opposes the proud but shows favor to the humble.' Humble yourselves, therefore, under God's mighty hand, that he may lift you up in due time."
On the flip side, some people are uncoachable, and you might be wondering why. From my perspective they exhibit some of the following characteristics.
They are resistant to any and everything new, not being open to change at all. They feel as if their way is the only way and they are unwilling to learn or adopt something new because "they have always done it this way." This could be the worst thing for a person or company to say.
Next, I see these types of people lacking self-awareness and not wanting or willing to be vulnerable. In my humble opinion, vulnerability is a strength not a weakness. It takes courage and shows me that you're authentic, which is something we need more of. You can't grow yourself or your team without it, and being vulnerable is a big key to being self-aware.
Finally, if you're unwilling to get outside of your comfort zone, then you're probably not coachable. I understand that fear exists in most of us, but this is where our most growth happens. Being coachable and open to this allows that to occur.
So, what area of your life can you become more coachable today?
Now that's GOOD STUFF!
__________
And a quick side note: It's been one year now that I've been writing this column. I am extremely grateful to Marlin for the opportunity. Also, I want to personally thank you, the reader, for taking the time to read this column; it means a lot. And a big thanks for those of you who connected with me by mail or via email–you'll never know how much I enjoy and appreciate your words. God Bless!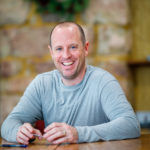 Reach out to Kevin Bille anytime with your thoughts by emailing him at: kevin@plainvalues.com
Watch interview's at Kevin's Youtube Channel